If you're active on Twitter, you fully understand that when you follow someone, they may not always return the favor, and that's fine. Social Media can be unpredictable, and Twitter is no exception. With that said, there are some great tools online that you can use to identify which users aren't following you back, who is inactive on Twitter, and much more. Here are four great tools that you can take advantage of, and the best part is that they're free.
---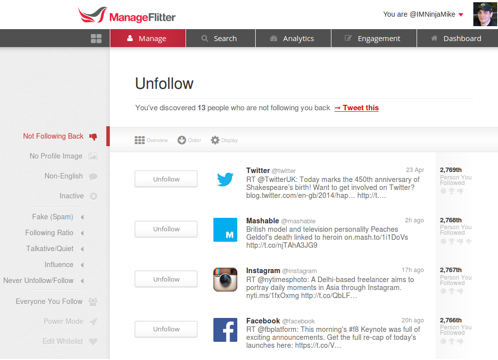 ManageFlitter is an outstanding tool that will give you a complete rundown of those that you're connected with in some way on Twitter. By signing in through your Twitter account, you'll have access to lists of those who aren't following you back, who is inactive on the network, and what accounts may be considered as spam, among other variables. ManageFlitter is very convenient too, especially in the list format, allowing you to unfollow users with one simple click. When using this tool, it's important to see who is inactive. While these users may already follow you back, if they're designated as 'inactive,' it means that they haven't tweeted in at least thirty days. If they aren't tweeting, why follow them?
---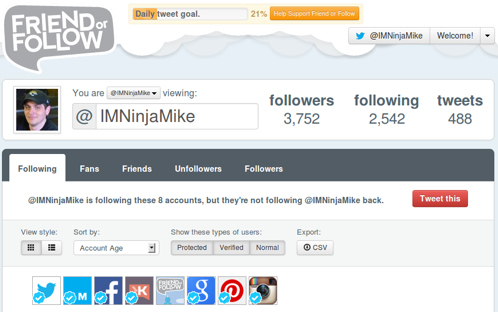 One of the great features of Friend or Follow is that it doesn't just focus on Twitter, but it takes a look at Instagram and Tumblr as well. In terms of Twitter, you can sort users by various factors, including whether or not they're verified, when they last tweeted, how old their account is, or how frequent they tweet, for example. While this is another great tool to see who isn't following you back, it's a little bit more time consuming than ManageFlitter, in that to follow someone, you need to open their profile into a new tab or window. However, great features make up for that. While you have the option to pay for additional features with Friend or Follow, the free version of the tool more than serves its purpose.